Lawyer Li Jun Getting Listed in the 2021 LEGALBAND Power List: Top 15 Litigators
2021-06-03
Views:21869
On June 1, 2021, the well-known legal rating agency LEGALBAND announced the "2021 LEGALBAND Power List: Top 15 Litigators". Lawyer Li Jun, Executive Director of Tahota Guiyang Office, was included in the list based on his solid professional knowledge, rich experience and excellent reputation among customers.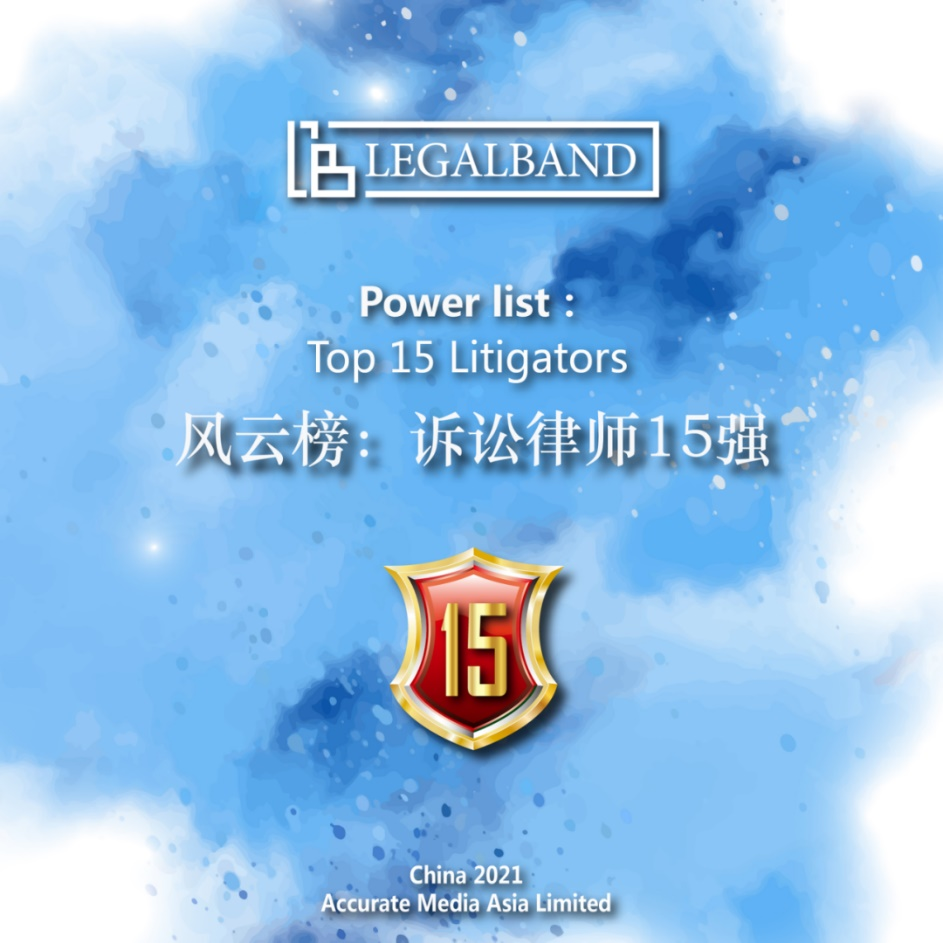 Reasons for getting included in the list: after several years of hard work in dispute resolution, mergers and acquisitions, banking and finance, bankruptcy and liquidation, government affairs and other aspects, lawyer Li Jun has made remarkable achievements in domestic and overseas litigation and arbitration business. Relying on his years of rich experience as a corporate legal counsel and in court trial and litigation, Lawyer Li is able to deeply understand operating modes of enterprises in different industries, make use of his own legal expertise and provide "customized" litigation plans for clients to help them avoid risks. Lawyer Li has handled various recourse rights cases and financial leasing cases on behalf of multiple large state-owned guarantee companies, with litigation amount exceeding RMB100 million yuan. He also has outstanding performance in handling non-performing loan disputes for Bank of Guizhou and China Construction Bank and was unanimously praised by enterprises. "Lawyer Li's work has safeguarded our huge investment and reduced the waste of social resources. He is definitely a good lawyer who protects the legitimate rights and interests of the public and social stability."
Personal profile: Lawyer Li Jun graduated from the Department of International Economic Law of East China University of Political Science and Law in 1997. As a class-II lawyer, He has been in practice for 24 years. Besides serving as a senior partner of Tahota Law Firm, a senior partner of Tahota (Guiyang) Law Firm and Director of Tahota (Guiyang) Law Firm, he is also a Deputy Secretary-General of Guizhou Lawyers Association and Vice President of Guiyang Lawyers Association. In addition, he has been selected as "National Excellent Individual on Publicity and Education of Law" by the Propaganda Department of the CPC Central Committee and the Ministry of Justice, Outstanding Lawyer of Guizhou Province, Outstanding Lawyer of Guiyang City, Outstanding Party Member Lawyer of Guizhou Province and Outstanding Party Member Lawyer of Guiyang City.
In this selection, LEGALBAND carefully referred to the recommendation materials of major law firms, lawyers' self-recommendation materials, customer feedback and other information. Finally, a list of 15 most recommended litigators in mainland China is presented in front of us. In the future, Tahota will continue to provide our clients with professional, comprehensive and high-quality legal services.