Tahota Lawyers Participated in 2016 the 6th Business of Intellectual Property Asia Forum
2016-12-02
Views:442
Related lawyer
WangXiao, a partner from Beijing office of Tahota, ang Wang Shiying, a partner fromJinan office, took part in 2016 the 6th Business of Intellectual Property (IP)Asia Forum from December 1 to 2, 2016. This forum is co-organised by theGovernment of the HKSAR, HKTDC and HK Design Center and Asia has become theleading IP event in Asia.
Somerenowned speakers were invited to attend and give a speech in the forum, including:Liang Zhenying, the chief executive of HKSAR, Wang Binying, the deputydirector-general of WIPO, Yi Xiaohuai, the deputy director-general of WTO, andDeng Yingjun, the office deputy director of State Intellectual Property Office.This forum chose "IP: the realization of an innovative generation" as its theme.Three sub-forums were held: "opportunity and growth: the future development ofIP in Asia", "creating an open future: IP management and commercialization",and "China's 13th five-year plan perspective: new opportunities for the innovativegeneration". This forum also had more than 20 group seminars, covering manytopics like practical information of IP, market perspective of IP, IP issueswithin certain industries and the basic introduction to IP.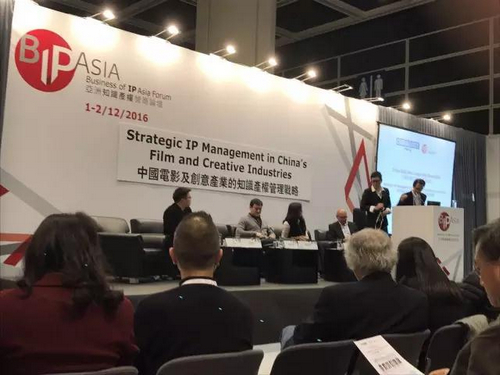 Bycombining IP business matters in Tahota, our lawyers participated in thediscussion of many topics, including: "IP portfolio management", "IP strategyof the mainland, Hong Kong and Taiwan to enter the international market", "thetrend and development of Asia Pacific IP market", "knowing the WIPOglobalization of IP services", " strategic IP management in China's filmand creative industry", " "social media law and 3D printing technologyrelated IP issue", "fashion and IP: new material and the application of technology","IP financing: global success mode and future development of Hong Kong" and "start-ups and IP businessopportunities" etc.
Duringthe forum, Tahota lawyers discussed about successful cooperation in the pastand looked for new cooperation opportunities together with our existing andpotential partners from the Asia-pacific region. They communicated with Europeancolleagues about experience of IP protection. In addition, Tahota lawyers alsodiscuss with and learn from WIPO project directors about internationaltrademark registration and domain name disputes based on UDRP rules.
Tahota IPteam is devoted to providing overall professional IP services for clients athome and abroad and looks forward to establish good communication and cooperationrelationship with attendances from various fields in the future.
Related lawyer