Intellectual Property Seminar丨Tahota lawyer will share his latest insight on online protection of intellectual property in China
2022-10-10
Views:2807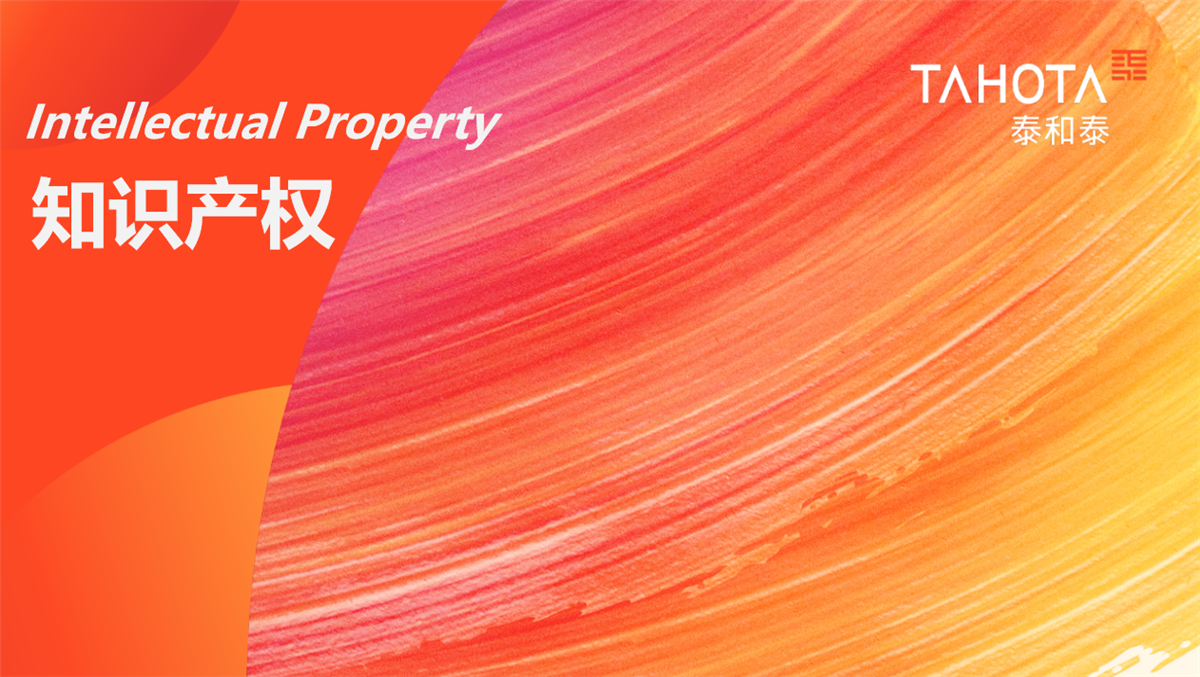 Background
As of the end of 2021, online consumption accounted for nearly 25% of China's total social consumption of the year. International companies in many sectors – consumer products and services, food and drink, creative content, industrial products, etc., are exposed to both the opportunities and the risks of IP infringement in China's booming E-commerce industry. In partnership with the Beijing Anti-infringement and Anti-counterfeiting Alliance of China (CAASA), the UK Intellectual Property Office will host a webinar to share the latest updates on how to protect your IP online. The session will invite IP expert Charles Feng, Senior Partner and Attorney at Law at Tahota. He will share his latest insight on online protection of intellectual property in China. The audience are warmly invited to participate.
Conference Overview
Time:14th October 2022 (Friday) PM 04:00-05:30 (Beijing Time)
Participation:Online
Language:English
Content of the Seminar:The session will feature IP expert Charles Feng, Senior Partner and Attorney at Law at Tahota. He will share practical tips on how to deal with online IP infringement and counterfeits in China. Charles has worked with many foreign brands and advises them on a range of IP issues including IP portfolio management, administrative enforcement as well as litigation in Chinese courts. The session will also be joined by Michael Chu, Director of Compliance and Intellectual Property at Pinduoduo, and Mick Ryan, Director for Brand Cooperation of Platform Governance Department at Alibaba Group. Michael Chu will introduce Pinduoduo's brand protection initiatives. Mick Ryan will share best practices in online monitoring and innovative criminal investigations, and introduce how Alibaba can provide support to SMEs.
Agenda
04:00-04:05 Welcome introduction by IPO - Samuel Stone. Based at British Embassy in Beijing, leader of UK's intellectual property attaché team, Intellectual Property Office of UK
04:05-04:10 Welcome introduction by CAASA - Rose Hua. Head of International Department at CAASA, international brands cases of Brand protection Centre
04:10-04:25 Brand Protection on Pinduoduo - Michael Chu. Director of Compliance and Intellectual Property at Pinduoduo
04:25-04:40 Best Practices in Online Monitoring, Innovative Criminal Investigations and Industry Partnership - Alibaba Mick Ryan. Director of IPR Strategic Partnership, Alibaba Group
04:40-04:55 Top Tips for Online IP Enforcement in China – Charles Feng. Senior Partner, Attorney-at-Law at Tahota
04: 55-05: 30 Q&A
If you have any questions, please send an email to:xinyun.jiang@fcdowebmail.fcdo.gov.uk
Speaker

Mr. Feng is Senior Partner, Attorney-at-Law at Tahota, Beijing, he also serves as Director of International Department of Tahota. Mr. Feng is a reputable IP and cyber law expert with substantial experience on intellectual property law, cyber law and anti-trust law with international law firm and Chinese law firms, focusing on IP litigation, enforcement trademark and patent portfolio management, as well as cyber law related legal matters.
Mr. Feng has represented numerous foreign clients from US, EU and Japan at various levels of courts as well as enforcement agencies in China. Mr. Feng is particularly experienced in addressing clients' commercial needs in the areas of IP litigation and arbitration, including patent, copyright, trademark, and domain names, unfair competition, trade secrets. In addition to his work in the courtrooms, he has been involved in IP transactional work, including the drafting, negotiation and enforcement of IP assignment or licensing agreements. Besides, Mr. Feng and his team also represented a number of multinationals in dealing with their legal matters in relation to cyber security, privacy and data protection.
As a highly regarded expert at home and abroad, Mr. Feng is currently serving as the Consultant Expert to Guiding Case Research Center of Supreme People's Court of China, Vice Director of Copyright Society of China, Standing Committee Member of China Intellectual Property Law Association, an IP Expert for EU-China IPR Helpdesk as well as a member of American Bar Association, China Bar Association and INTA. For four consecutive years since 2015, Mr. Feng has been consecutively listed in LegalBand as excellent IP lawyer from 2015 to 2019, excellent Cyber Security and Data Protection lawyer from 2017-2019 as well as listed by Asian Legal Business as Top 15 IP Lawyer in 2015.
Registration
Please click the link below to register
https://ukbusinessinchina.glueup.cn/event/37996/register/